What Others are Saying!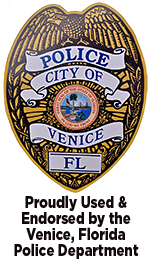 "I'm here to tell you about "Monkey Mirrors". This tiny little mirror will be the best investment you'll ever make as a cyclist. I am an avid cyclist and I've been through the works with these things. Mirrors that break, mirrors that are to hard to adjust, mirrors that don't sit well on the helmet or are way too shaky! But, this mirror takes ALL those problems and throws them RIGHT OUT THE WINDOW! These mirrors are incredibly durable and long lasting. Once they are adjusted they are guaranteed to stay in place."

-- Josh Lozada

Hi my friend in the US. I bought and had sent--one of your cute mirrors to me here in New Zealand. It's a big WOW and I just love it! And best of all, it works! Thanks for your ingenuity. Regards!

-- Diane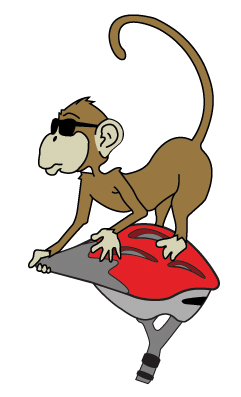 "We are selling these mirrors in our store and they're going like mad!"
-- Real Bikes in Venice, Florida
"I love this mirror, the view is great and it simply doesn't move on me!"
-- Rita Whiting in Eden, Minnesota
"Great mirror! The custom logo they applied was awesome!"
-- Eric Phreed in Lansing, Michigan
"I've tried out this mirror; very easy to attach and to adjust.
It's small & unobtrusive, its Great!
-- Nick Ewing in Waterford, Michigan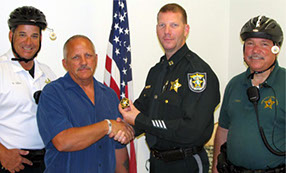 Monkey Mirrors Contributing in the Community!
Captain Bill Prummell presents a Charlotte County Sheriffs Office Challenge Coin to Bob Burse, owner of Monkey Mirrors for Cyclists. Monkey Mirrors donated mirrors as a Community Partner to the CCSO Bike Patrol. Burse said, "It was just a small way to further help protect those that work so hard to protect our community."


Customer Photos!